The holidays are quickly approaching! Now that you areall settled into your new home, it is time to decorate. There is no betterway to save money while spending quality time with your families than craftingyour own holiday decor! Here are 3 cheap and simple ideas to make your homeextra cozy this season.
1. Frosty the Fridge
Source: http://handsonaswegrow.com/activity-snowman-fridge/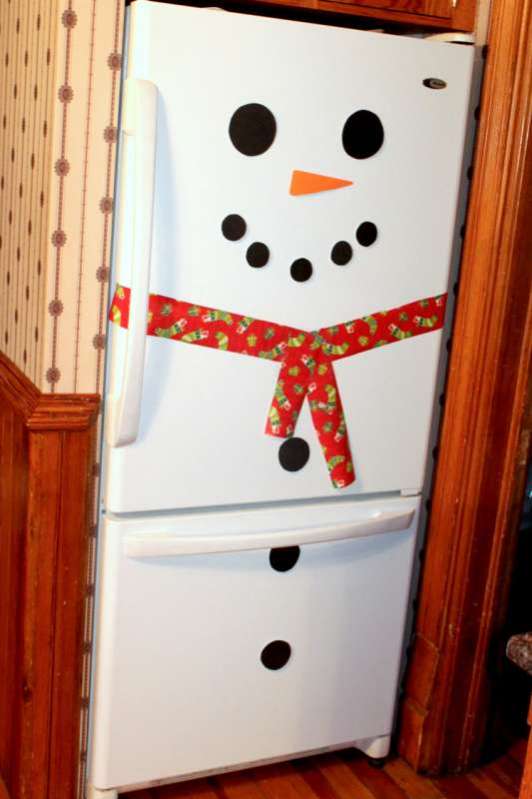 What you will need:

1 black foam sheet or construction paper
1 orange foam sheet or construction paper
Wrapping paper
Tape or adhesive magnets
Directions:
Cut the black sheet so you have a total of 2 large circles (eyes), 3 medium circles (buttons) and 5 small circles (mouth).
Cut a large triangle from the orange sheet for the nose.
Take any scrap wrapping paper to form into the snowman's scarf. Cut into wide strips and tape in place.
Use tape or adhesive magnets to secure all of the parts into place on your refrigerator!
(optional) if you have a hat, place on top of your refrigerator and watch Frosty come to life!
Don't think your refrigerator will work for this project? Try on a door instead!
2. Holiday Card Wreath
Source: http://www.gwennypenny.com/2010/12/haul-out-holly-day-8-with-craftiness-is.html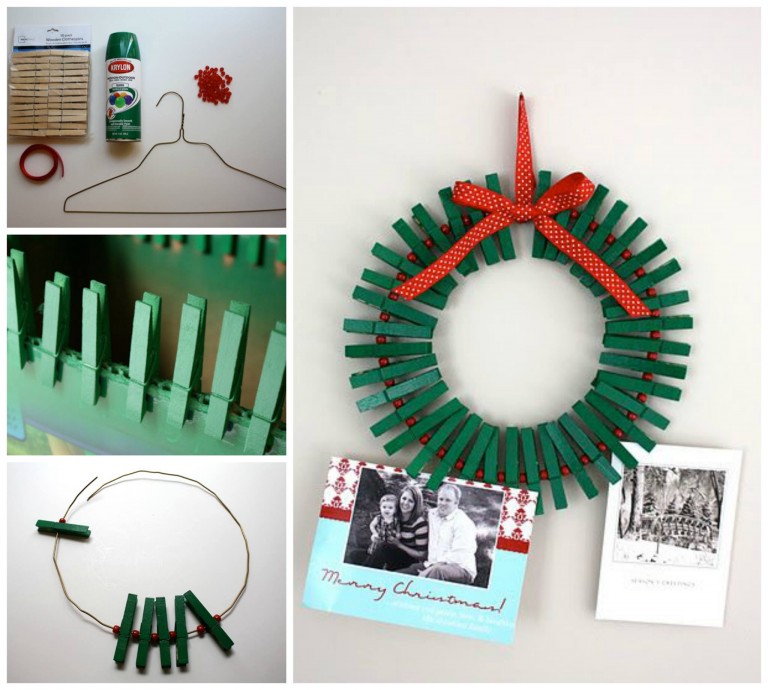 What you will need:
50 pack of Clothes Pins
1 yard of ribbon
Wire clothes hanger
Green spray paint
Pony beads or other decorations
Wire cutter
Glue gun
Directions:
Place your clothes pins on something that will prop them up, such as a box
Spay 3-4 coats of the green paint covering all areas and let dry.
Cut the hook from the wire hanger and shape into a circle
Alternate sliding the clothes pins, beads, and any other decorations you may have into the wire until the wire is just about full. (leave space for the wires to overlap)
Hot glue the wires together
Cut a piece of ribbon to tie around the wire, then trim the ends and glue to the wire
Using the rest of the ribbon, tie a bow and glue to the top of the wire
Hang on the wall and pin your holiday cards!
3. Candy Cane Vase
Source: http://www.livingwellspendingless.com/2010/12/17/c…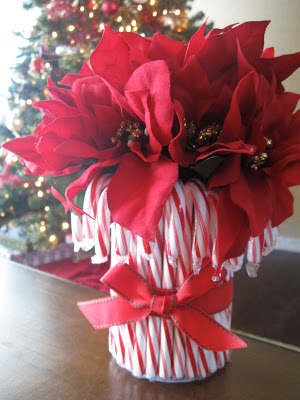 What you will need:
1 box of candy canes
Empty can
Ribbon
Artificial (or real) flowers
Hot glue gun
Directions:
Hot glue the back of the candy canes all around the empty can.
Cut the ribbon and glue around the candy canes.
Create a bow and glue it to the front.
Find artificial poinsettias or other flowers from unused decorations and place in the vase!